Meet Chloe.
A Sophomore transfer student from Southern Adventist University.
As someone who has been through the ups and downs of transferring to a new school, we asked Chloe to be this week's Feature Friday and share her top advice on how to make your transfer a smooth transition!
12 TIPS FOR A SUCCESSFUL TRANSFER EXPERIENCE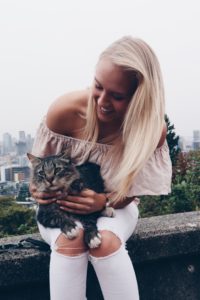 When I transferred schools and had to start all over again, I was definitely intimidated, but that doesn't mean you have to be! Transferring is actually a lot easier and a lot less work than we all think it is. As a transfer student to La Sierra University, I've been there and I know what it's like, so here are my top 12 tips that will make your experience a breeze, putting you miles ahead of other students.
1. Don't let fear get the best of you.
Facing my fears and stepping out of my comfort zone has allowed me to be a part of so many wonderful experiences. Most of us don't like going into situations that we know little about, but life is filled with these. Don't be afraid to face your fears head on. Take a deep breath, remember how you made friends at your previous school and do it again!
2. Get a current student's perspective on the school you are transferring to.
Before I transferred to La Sierra, and even after, I made sure to talk to a few people who attended there to get their personal opinions about the academics, social life, overall atmosphere and what to expect. No one knows the ins and outs of a school better than students who currently attend, so get their perspective – it can make all the difference.
3. See how your classes actually transfer over before you move schools.
There's nothing worse than finding out after you've transferred that some of your credits didn't make it to the other side. But don't worry! You can take preventative measures to make sure this doesn't happen by making time before you move to figure everything out. Talk with both your new department at La Sierra and your old school before the quarter begins to iron out the details. I promise you it'll save so much extra time and effort in the long run.
4. Don't repeat classes that you have already received credit for.
This is an important point for every transfer student to recognize. While I didn't repeat any classes (thankfully), many do. I had my department take a look at my unofficial transcript before I set up my quarter schedule because some classes listed under a different name or a number were really the same thing. Getting in touch with my academic advisor saved me time, money and the extra stress of having to take a course all over again unnecessarily.
5. Classes are a priority.
Don't wait until the last minute to register for classes! Make sure to register early – Many students transfer from the semester system and don't understand the timeframe of the quarter system. It's also super helpful to set a plan with your academic advisor to figure out what schedule is best for you. This will ensure that you successfully complete all the requirements you need to graduate as efficiently as possible. Your advisor's job is to help you, so don't hesitate to get in contact with them. La Sierra is filled with an over abundance of faculty and staff who are more than willing to help you succeed as a transfer student, and with the proper information and action plan, your transition can be much simpler than you think.
6. Use the campus resources.
The library reference desk, writing center and tutor services are here to help you, so take advantage of them! The library reference desk is available to guide you to the right books and sources you need for your projects. The tutors at the writing center can assist you in brainstorming ideas for papers and essays and give you a second opinion on what you have already written. Meeting with a tutor for a one-on-one session is also an excellent way to understand material for a specific class better. Using these resources is one of the best ways I have found to be successful in college.
7. Make a point to attend transfer student orientation.
When I transferred, I missed out on orientation, and I have big regrets about that. Although orientation starts a couple days before your actual classes start, going to it is a fantastic way to get a real feel for your La Sierra. Here, you can meet new faces, get acquainted with your surroundings in a safe environment, and make connections with other transfer students who are going through the same thing as you.
8. Don't be afraid to act like a freshman.
It's okay to be mistaken for a freshman; even though you may be older, don't worry about it. I used to let this bother me, but now I really don't care! Chances are it's just because they have never seen you on campus before and don't recognize you, or maybe it's because they see you going to all the new student events. Whatever the case may be, don't be afraid to get out there and experience La Sierra.
9. Get a job early on in the year.
Getting a job can be much more than just a way to make money. Working is a great way to meet people, and can really help you settle into your new school. One of the best choices I made was deciding to do something with all the extra free time I had by getting a job. It's also a great way to build your resume! I currently work in the business department, and have found that I feel both more productive and more a part of the school. If you're currently looking for a job, visit the La Sierra HR website: https://lasierra.edu/hr/student-employment/. They have a list of current campus jobs, all the way from TA positions in different departments to various jobs in the cafeteria.
10. Don't second-guess your decision after transferring; give it time.
When I transferred to La Sierra, especially in the beginning, I second-guessed my decision to move more times than I should have. I thought about all the friends and familiarity I left behind, and frequently wanted to go back to my old school, but I'm glad I learned to stick it out and stay. Although I was skeptical at first, I decided to wait, and am 100% thankful I did. People are able to adapt to their surroundings quicker than they think and while no school is perfect, adaptability is key. Give it time!
11. Get involved.
Although I was intimidated at first, I forced myself to get involved in campus clubs, which helped me really step out of my comfort zone and meet new people. We have a wide variety of clubs here to suit your personal interests. Some of our more broad topics are academic, cultural, and international related student clubs, and some niche-specific ones are Enactus, North Star, and Revo, just to name a few. Signing up for these can help you expand your social life and develop a group of friends.
12. Know that you are meant to be there.
I'm speaking to you as a fellow student who has experienced the challenges of uprooting my life for a fresh start in another place. Know that no matter what, you are meant to be here for a specific reason. Although you may not know what that reason is yet, I guarantee you will find out along the way. You may feel out of place at first and notice that most of your classmates already have their groups of friends and a routine, but I learned that the best way to be a part of a group is to put your best foot forward, be friendly, and include yourself!
Article by Chloe Amundson
Since 2009, John Razzouk has worked as our Coordinator for Program Management, Sam Walton Fellow for our Enactus Team, and TEDxOrganizer for our world-class TEDxLaSierraUniversity event.